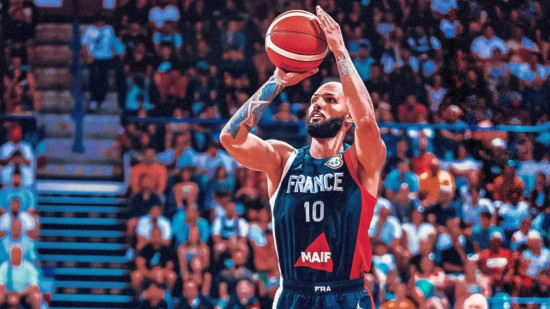 In the first minutes, the Tunisians managed to gain a five-point advantage (9:4), but in the continuation, the power and potential of the French basketball players proved, not sparing the Tunisians in the second half of the first quarter, as well as in the remaining three quarters.
In the first half, France took a 25-point lead (53:28). In the third ten minutes, the French scored two (!), and in the fourth – six points, sending 22 and 18 points into the opponent's basket, respectively.
The winners took the opportunity to give all 12 basketball players approximately equal playing time – no one played more than 20:14 minutes, and the smallest playing time was 11 and a half minutes.
The French made 15 of 27 two-pointers, 15 of 30 three-pointers and 18 of 22 free throws.
The ULEB Euroleague champion « Real » Madrid basketball player was on the court the longest Gershon Yabusele, who scored 18 points (6/7 on field goals, 3/3 on free throws) and had six assists. 12 points (4/4 on field goals, 1/2 on free throws) for « Monaco » player to Jakub in Vatara. 11 points (3/5 on 2-pointers, 5/6 on free throws) and eight rebounds to Rudy Gobert.
France will face Montenegro (August 2), Venezuela (August 7), Lithuania (August 9 and 11), one of the hosts of the final tournament, Japan (August 17) and Australia (August 20) in the next test matches.
The French will compete against Canada (August 25), Latvia (August 27) and Asian vice-champion Lebanon (August 29) in subgroup H of the final tournament in Jakarta, the capital of Indonesia.
Test matches of national teams in July
| The date | The game | The result |
| --- | --- | --- |
| 20.07 | Mexico – Colombia | 93:64 |
| | Lithuania B – Jordan | 107:69 |
| 22.07 | Japan – South Korea | 69:76 |
| | Lithuania B – Jordan | 93:75 |
| 23.07 | Mexico – Colombia | 76:60 |
| | Japan – South Korea | 85:80 |
| 24.07 | Lithuania B – Jordan | 101:75 |
| 25.07 | Slovenia – China | 75:73 |
| 26.07 | Lebanon – Iran | 73:66 |
| 27.07 | Lebanon – Iran | 81:77 |
| | Portugal – Ivory Coast | 68:79 |
| 28.07 | Hungary – Israel | 68:90 |
| | Ivory Coast – Czech Republic | 97:81 |
| | Portugal – Jordan | 75:70 |
| 29.07 | Mexico – Argentina | 81:75 |
| | Georgia – Egypt | 76:81 |
| | Israel – Iceland | 79:81 |
| | Lithuania – Ukraine | 100:72 |
| | Portugal – Czech Republic | 91:79 |
| | Ivory Coast – Jordan | 71:74 |
| 30.07 | Hungary – Iceland | 73:69 |
| | Jordan – Czech Republic | 79:80 |
| 31.07 | Ukraine – Sweden | 74:72 |
| | In France – Tunisia | 93:36 |
Used sources:
https://fibalivestats.dcd.shared.ge…